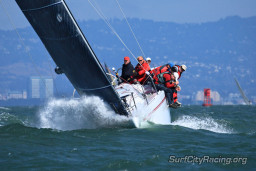 Sailing
I've raced on the San Francisco Bay since 2001. I was most recently bowman on the Tripp '43 TNT, winners of the Rolex Big Boat Series in 2011 (IRC B). That's me up front in the white hat and grey lifejacket. Before TNT I spent five years on 1D35s, a few years on Express 37s, and a whole variety of boats in between. Next up: teaching my two boys to sail.
1972 Porsche 911 T
I bought the car in Phoenix in 2001 and drove her back to San Francisco. ~60K original miles, E-cams, near-perfect bodywork, and a joy to drive. I fell in love and did a bunch of work on the car but ultimately couldn't keep her in garage-scarce San Francisco. Happily, in 2010 I sold her back to her previous owner. It's a small world.
Words
I love word games. Scrabble and its variants, Wordle, Bananagrams, crossword puzzles. I even built a Scrabble tile tracker.
Paintings
The following inspired and provided the thumbnails used on these pages.